Covid-19 Disinfecting Services

Rated 4.9 out of 5 stars with over 400 online reviews

Disinfecting Services
For Your Home or Office
Disinfecting Services for Your Business or Home
Keep your home or office free of viruses and germs that can make family members or employees sick. Using our electrostatic spraying technology, we ensure full 360-degree surface coverage of an EPA-approved disinfectant for use against SARS-CoV-2, the virus that causes COVID-19.
Love My Maids has completed GBAC training focusing on SARS-CoV2 & Covid-19 infection control and remediation.
Prevent The Spread Of Viruses
Love My Maids offers full-service, professional disinfecting for your home. Using our electrostatic sprayer along with an EPA-approved disinfectant for use against SARS-CoV-2, the virus that causes COVID-19 and the flu. Our services can be done on a recurring basis as a preventative measure or on a one-time basis.
Our disinfectants are safe on all surfaces and the house can be occupied right after we spray. Our electrostatic sprayer ensures full coverage of all surfaces people are likely to touch (bathroom and kitchen surfaces, doorknobs, light switches, etc.)
Want to try and do it yourself? Check out our blog post, How To Properly Disinfect Your Home.
Keep Your Employees and Customers Healthy
Now more than ever, protecting your employees and customers is of utmost importance.  We proudly offer one-time and recurring disinfecting services to all types of small business (under 5000 SF)
Office spaces
Hair and nail salons
Child care facilities
Doctor and dentist offices
Retail shops
Gyms and fitness centers
Apartment complex common areas
Covid-19 Disinfecting Process
Step 1: Clean high-touch areas to prepare for electrostatic spray treatment.
Step 2: Electrostatic spraying of an EPA registered disinfectant approved for use against the flu and SARS-CoV-2, the virus that causes COVID-19.
Up to 2,000 SF - $200
2,000-3,000 SF - $250
3,000-4,000 SF - $300
4,000-5,000 SF - $350
Save 50% when disinfecting is combined with any cleaning.
Keep Your Family and Employees Safe & Healthy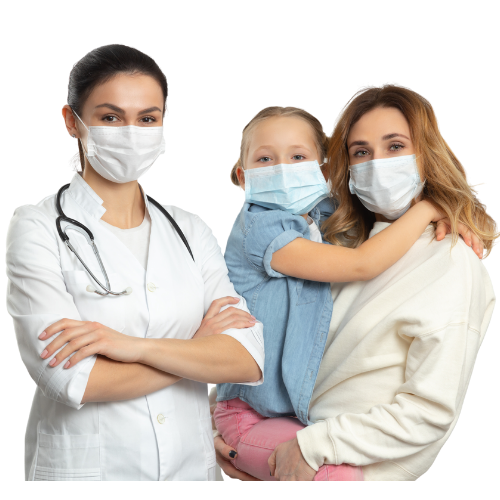 Keep Everyone Safe With Our Disinfecting Services. Request Your Quote Now.
FAQ - Disinfecting Services
Quoting is not an exact science.  Since we do not do in-home estimates, we do our best to schedule the right amount of time for each cleaning based on the information you provide about the size and condition of your home. And, we get it right most of the time.
Once in your home, if we do not feel we will be able to complete the job in the amount of time scheduled, our office will call you immediately.  At that time you can either add additional time at our normal hourly rate or provide us a list of priorities.
The number of maids depends on the size of your house and the time needed to complete the clean.  For most deep cleans, we will send two cleaners.
We will charge your card on file once the cleaning is completed.
Life Is Too Short To Spend It Cleaning!