Moving can be overwhelming, so why take on the cleaning too!  Moving out of a rental? A clean place will help you get your deposit back. Selling your home?  Let us get it nice and clean for showing.  Moving into a new home? Let us get it clean and sanitized before you move in.
We Make Moving Easier With Our Move Cleaning Services
Love My Maids offers two move in/out cleaning options, our Basic Move Cleaning and our Deluxe Move Cleaning.
Our Basic Move Cleaning is a budget-friendly way to get your place ready for your move.  We'll detail clean your kitchen, sanitize bathrooms, wipe out all the cabinets and drawers, dust baseboards, wipe down doors, door frames and window sills.  We'll finish by vacuuming the floors and moping hard surface floors.  When we're done, everything will be fresh and clean!
Is your house or apartment in need of some serious cleaning? Look no further than our Deluxe Move Cleaning. This is our most thorough and detailed move in/out cleaning.  Your empty home gets a super detailed top-to-bottom cleaning by our expertly trained cleaning professionals. We'll even wipe out all the cabinets and drawers and hand wash all the baseboards.  This cleaning is 50% more time than a Basic Move Cleaning.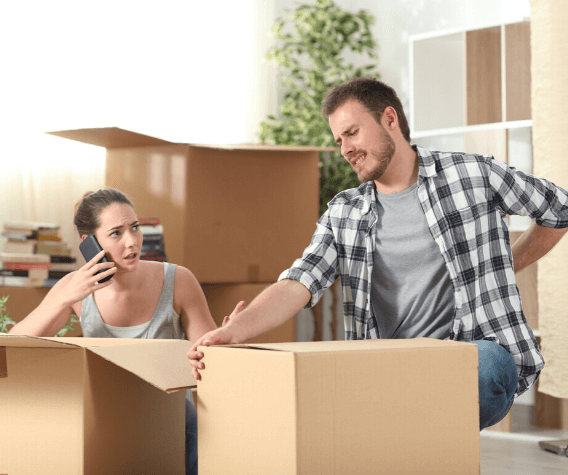 We believe in providing high-quality house cleaning and maid services every time we come to clean your home.  All of our technicians are trained to follow our house cleaning checklists for each of the services we provide. We also hope that these cleaning checklists will help you decide which cleaning will best meet your needs.
| | Recurring | Basic Spring | Basic Move | Deluxe Deep | Deluxe Move |
| --- | --- | --- | --- | --- | --- |
| KITCHEN | | | | | |
| Clean Countertops | | | | | |
| Dust countertop items | | | | | |
| Clean appliances; polish stainless | | | | | |
| Clean oven interior (Extra) | Add-on | Add-on | Add-on | Add-on | Add-on |
| Clean refrigerator interior (Extra) | Add-on | Add-on | Add-on | Add-on | Add-on |
| Spot clean cabinets | | | | | |
| Wash cabinet fronts | | | | | |
| Clean inside cabinets & drawers | | | | | |
| Sanitize sink; polish fixtures | | | | | |
| BATHROOMS | | | | | |
| Scrub tub/shower; polish fixtures | | | | | |
| Clean countertops; dust countertop items | | | | | |
| Clean inside cabinets & drawers | | | | | |
| Sanitize sinks; polish fixtures | | | | | |
| Clean mirrors | | | | | |
| Sanitize toilet and toilet area | | | | | |
| BEDROOMS | | | | | |
| Change linen; make beds | | | | | |
| ALL ROOMS | | | | | |
| Remove cobwebs | | | | | |
| Dust ceiling fans and light fixtures | | | | | |
| Dust wall art and A/C vents | | | | | |
| Dust knick-knacks and lamps | | | | | |
| Dust furniture; polish wood furniture | | | | | |
| Dust blinds | | | | | |
| Wash Blinds (Extra) | Add-on | Add-on | Add-on | Add-on | Add-on |
| Dust window sills | | | | | |
| Wash Window Sills | | | | | |
| Dust doors and door frames | | | | | |
| Wash doors and door frames | | | | | |
| Dust Baseboards | | | | | |
| Wash Baseboards | | | | | |
| Empty trash and reline trash cans | | | | | |
| Vacuum floors | | | | | |
| Mop hard-surface floors | | | | | |