Move In/Out Cleaning Services

Rated 4.9 out of 5 stars with over 400 online reviews

Professional
Move In/Out
Cleaning Services
We'll Make Your Move Easier With Our Move Cleaning Services
Moving is hard and takes a lot of time and energy. With all that needs to be done, wouldn't it be a relief to not have to worry about cleaning up the old place or getting the new place clean and sanitized so you can move in? Do yourself a favor; you take care of the move and leave the cleaning to our move cleaning experts!
Moving Out? We'll get your place nice and clean and ready for new residents. And, a good thorough cleaning might help you get your deposit back!
Moving in? Let us get the new house or apartment fresh, clean, and sanitized. We'll even wipe out all the cabinets and drawers!
You Pack And Let Us Take Care of The Cleaning
What's Included In Your Move Cleaning?
Whether you are moving out or moving in, our move-in/out cleaning services will be a blessing and a great time saver for you and your family. Included in your move cleaning:
Clean and sanitize the bathrooms & kitchen surfaces with a hospital-grade disinfectant.
Wiping out the inside of cabinets & drawers.
Polishing appliances.
Dusting ceiling fans, A/C vents, and blinds.
Dusting or washing baseboards (depending on the clean you have purchased).
Wiping painted woodwork (doors, door frames, window sills, etc.)
Vacuuming floors and mopping hard surface floors.
Here's a helpful article on how to prepare for your move.
Are You Ready For a Spotless House?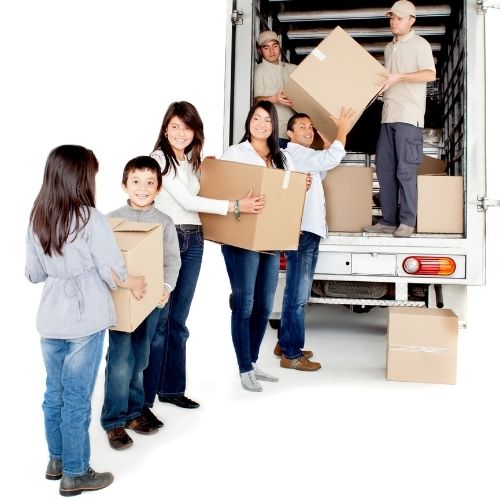 The Whole Family Will Be Happy You  Hired Us To Do The Cleaning! 
FAQ - Recurring Maid Services
Quoting is not an exact science.  Since we do not do in-home estimates, we do our best to schedule the right amount of time for each cleaning based on the information you provide about the size and condition of your home. And, we get it right most of the time.
Once in your home, if we do not feel we will be able to complete the job in the amount of time scheduled, our office will call you immediately.  At that time you can either add additional time at our normal hourly rate or provide us a list of priorities.
The number of maids depends on the size of your house and the time needed to complete the clean.  For most deep cleans, we will send two cleaners.
We will charge your card on file once the cleaning is completed.
Life Is Too Short To Spend It Cleaning!