Deep House Cleaning Services in Fort Worth TX

Rated 4.9 out of 5 stars with over 400 online reviews

Does Your House Need a Good
Old-Fashioned Deep Cleaning?
Best Deep House Cleaning In Fort Worth, Arlington and Surrounding Areas
Every house needs a good old-fashioned "spring" cleaning every now and then. A cleaning where everything gets wiped down and thoroughly dusted. Our Deluxe Deep Cleaning is designed to give your home some serious love to get it super clean and looking its best. Request a quote today and come home to a spotless house tomorrow!
Check out our blog post, 5 Signs Your House Needs a Deep Cleaning.
Your House Is Going To Sparkle & Shine!
Give Your Arlington TX Home Some Love With Our Deep House Cleaning
If it's been a while since your home was thoroughly cleaned, a deep house cleaning is the right choice. Our deep cleaning services are our most thorough and detailed cleaning service.
When Love My Maids completes your deep cleaning your house will be expertly cleaned and will look and smell springtime fresh. Nothing feels better than coming home to a meticulously cleaned house.
We offer two options for your one-time or initial deep cleaning when starting a recurring maid service, the Basic Spring Cleaning, and the Deluxe Deep Cleaning. The cleaning you choose will depend on the condition of your home and your budget.
Basic Spring Cleaning - a budget-friendly option for houses that have been well-kept and cleaned on a regular basis.
Deluxe Deep Cleaning - our most detailed cleaning and is designed for homes that may not have been regularly maintained and are in need of a lot of "house cleaning love."
** All recurring cleaning services start with the deep cleaning of your choice.
Try a One-Time or Occasional Deep Cleaning. What a Treat!
Treat yourself to a spotless house. You deserve it!
A one-time or occasional deep cleaning is great for getting your house in tip-top shape and easy for you to maintain. It's also great for preparing for special occasions.
When guests is coming.
When getting ready for the holidays.
When a family member is coming home from the hospital.
Seasonal cleaning (spring and fall cleanings)
Check out our blog post: 5 Signs Your House Needs a Deep Cleaning.
Are You Ready For a Spotless House?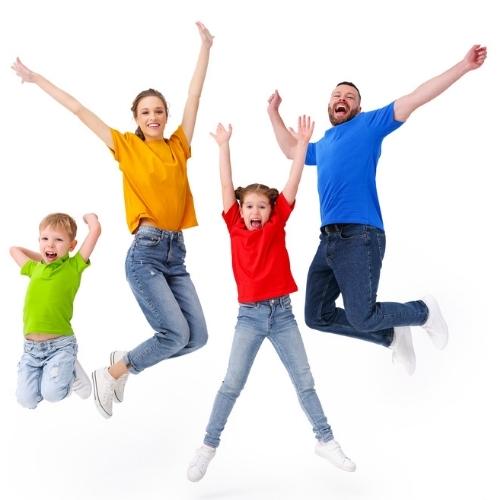 The Whole Family Will Jump For Joy When You Hire Us To Do The Cleaning
FAQ - Deep Cleaning Services
Quoting is not an exact science.  Since we do not do in-home estimates, we do our best to schedule the right amount of time for each cleaning based on the information you provide about the size and condition of your home. And, we get it right most of the time.
Once in your home, if we do not feel we will be able to complete the job in the amount of time scheduled, our office will call you immediately.  At that time you can either add additional time at our normal hourly rate or provide us a list of priorities.
The number of maids depends on the size of your house and the time needed to complete the clean.  For most deep cleans, we will send two cleaners.
We will charge your card on file once the cleaning is completed.
Life Is Too Short To Spend It Cleaning!